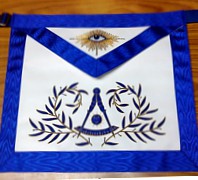 The Online Masonic Regalia, Rings & Gift store!
Serving the American Masonic Fraternity – owned and operated by Freemasons
Masonic Supply Shop is a distributor of quality American Masonic Regalia and other Masonic regalia and supplies at competitive prices, serving the Masonic fraternity. Please do not hesitate to contact us for either a quotation or assistance regarding your order or our products.
We are adding more products every month. Please check back at our website frequently.

Secure Checkout – We Accept Secure Credit Card Payments (VISA, MasterCard), PayPal and Lodge Checks and we are pleased to offer International Shipping.
American Masonic Regalia Categories
New Masonic Ties
Lewis Jewel Name Bar
Gold Finish
Price: $15.00
A Collection of Masonic Poetry " Through the Eyes of a Brother"
By Bro Nick Andras
Grand Lodge Dress Aprons
All aprons are of the finest quality and conform to the Grand Lodge specifications.
Grab your favourite drink and fill up this stunning flask.
Made ..
Price: $68.95
Nice Square & Compass Design Oval Cufflinks Blue on Antique Silver Finish
size 1/2
Masonic Shirt Studs
Nice Set of four Square and Compass shirt studs
$34.95
Masonic Shirt Studs
Nice Set of four Square shirt studs Gold Sq & C On Black Enamel gold finish
size 3/8th 12cm Dia
$34.95